Samantha's Studio
Harestanes is a beautiful location, on the Lothian Estates in the Scottish Borders and is the location of my delightful studio in their Craft Courtyard.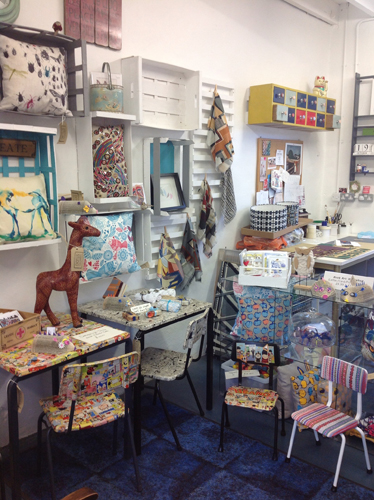 Here I create all types of home living accessories from my original designs. Cushions, Upholstery, Upcyling, Lampshades, Decopauge and other complimentary home finishings.
I design a range of prints and cards, and compliment this with other small artifacts for the home or family.
For children I am currently upcycling small tables and chairs in decopauge, and will be developing other material adventures like Tepees and hideaways, and nursery designs for 2015. For the coming year I have studied new trends and colour and will be working on my new concepts during the Winter months ready for when we are all re-energised for change early Spring.
One of my latest commissions for a Scottish family was to reproduce their family tartan onto a suitable fabric for re-upholstering their dining chairs ready for a further generation of hand me downs and creating a tartan effect on linen was indeed challenging, but successful. I shall now develop a more comprehensive tartan collection as it seems rather popular, especially in my locale!
Do take a look at this project, along with the other examples of my work, or call me for a chat about your home own vision. You will be made most welcome